OPERA & MUSIC THEATRE
Bizet
Carmen
Carmen
Summer Opera Lyric Theatre, Toronto
Dr. Miracle
Véronique
Toronto Philharmonia, Kerry Stratton
Britten
Albert Herring
Nancy
Britten-Pears School, Aldeburgh, England
Charpentier
Actéon
Hyale
Opera Atelier
Estacio/Murrell
Filumena
Maria Picariello
The Banff Centre
Gilbert & Sullivan
Iolanthe
Iolanthe
University of Toronto
Gonzalez-Risso/
Kong Kie
La Señorita Mundo
La Señorita Mundo
Summerworks Theatre Festival (premiere)
Handel
Alcina
Ruggiero
Essential Opera
Hannan/Hinton
The Diana Cantata
Diana
Modern Baroque Opera, Vancouver (premiere)
Hindemith
There and Back
Angel/Sage
University of Toronto
Humperdinck
Hansel and Gretel
Hansel
Canadian Opera Company
(community outreach tour)
Lully
Persée
Nymphe Guerrière
Opera Atelier
Vénus
Mozart
The Magic Flute
Third Lady
Opera Atelier
The Marriage of Figaro
Cherubino
University of Toronto
Palmer/Chatterton
Voice-Box
The Vilminator
urbanvessel, Harbourfront World Stage (premiere)
Purcell
Dido and Aeneas
2nd Witch/Mercury
Opera Atelier
Ruders
The Handmaid's Tale
Serena Joy (understudy)
Canadian Opera Company
Tchaikovsky
Eugene Onegin
Olga
Pacific Opera Victoria
Tatiana
Opera By Request
Verdi
Rigoletto
A Page
Dartington International Music Festival, England
Weill
The Threepenny Opera
Lucy Brown
Vancouver Opera Association

ORATORIO



J. S. Bach
Cantata Arias
Mooredale Concerts, Kristine Bogyo, Artistic Director
Cantata No. 93
(Wer nur der lieben
Gott lässt)
Metropolitan Festival Choir, Patricia Wright
Cantata No. 142
(Uns ist ein Kind geboren)
Concertsingers, Roger Bergs
Magnificat
Hart House Singers, Roger Bergs
St. John Passion
St. Simon's Choir, Derek Holman
Duruflé
Requiem
Metropolitan Festival Choir, Patricia Wright
Handel
Messiah
Metropolitan Festival Choir, Patricia Wright
Ottawa Valley Festival Chorus, Mervin Fick
Haydn
Lord Nelson Mass
St. Paul's United Church, St. Catharines, Peter Partridge
Mass in Time of War
St. Simon's Choir, Derek Holman
Missa Sancti Nicolai
Baltic Noël, Ivars Taurins
Thirteen Strings, Ottawa, Robert Cooper
Mozart
Requiem
Concertsingers, Roger Bergs
St. John's Latvian Lutheran Church Choir, Brigita Alks
Penderecki
Credo
Banff Arts Festival, Krystof Penderecki (Canadian premiere)
Pergolesi
Magnificat
Concertsingers, Roger Bergs
Raminsh
Recordare
Banff Arts Festival, Imant Raminsh (premiere)
Vivaldi
Gloria
Aradia Ensemble, Kevin Mallon

CONCERT EXPERIENCE



Britten-Pears Orchestra, Aldeburgh
The Fairy Queen (Purcell) (48th Aldeburgh Festival;
Sheldonian Theatre, Oxford)
CONTACT contemporary music
Transformed
Continuum Contemporary Music

Massey Hall New Music Festival 2000, Toronto

CBC Radio Two broadcast Two New Hours
Etobicoke Philharmonic
Opera arias & duets
Fine Young Classicals
Theatrical Masterpieces Hanns Eisler Cabaret Songs
NYCO Symphony Orchestra
Adieu Robert Schumann (R. Murray Schaefer)
St. Lawrence String Quartet
Il Tramonto (Respighi)
Talisker Players Chamber Music Series
Perfect Propriety
Reflections of Eden
Vox humana
The Aldeburgh Connection
Come Into the Parlour Maud
The 49th Parallel
TOCA VOCA
The Composer Now (

The Music Gallery)

CBC Radio Two broadcast Two New Hours
Toronto Operetta Theatre
I Love Paris
SOLO RECITALS
Bridge Across The Seas CD release concert, Heliconian Hall, March 2011
Canadian Concert Tour as First Prize winner of the 22nd Annual Eckhardt-Gramatté National Music Competition
Concerts in Latvia (Cesvaine, Ulbroki, Riga, Sigulda) and Hannover, Germany
Latvian Concert Associations of Canada, Chicago, Florida, Greater Cleveland, and Minneapolis
Mountainview International Festival of Song, Calgary, Alberta
Niagara International Chamber Music Festival, Niagara-on-the-Lake, Ontario
Royal Over-Seas League, London, England
Serenata Music, London, Ontario
Syrinx Sunday Salons, Toronto
ACTING & OTHER
Cabarets
(featuring music of Bolcom, Gershwin, Porter, Sondheim, Weill, & others)
Mouthful of Shadows, Buddies in Bad Times Theatre
Not at the Opera – C'est What, Free Times Café
Bittersweet Mango Cabaret, Banff, Alberta.
Film/TV
At the Mercy of a Stranger; Drop the Beat; Earth: Final Conflict; Mr. Bojangles; The Girl Next Door.
"Caroline" in Maybe It's Mabeline, written & directed by Janet Banks, Toronto Fringe Festival 2001.
"The Vamp" in Divine Comedy – short film for BRAVO! Arts Channel, directed by Sarah Willinsky, Bad Dog Productions.
"The Devil" in Stravinsky/Ramuz The Soldier's Tale with The Friends of Gravity, Toronto.
Other
Soloist (singer/dancer) in Room by Juliet Palmer as part of Water Sources II, produced by Art in Open Spaces.
Soloist (singer/dancer): world premiere of Juliet Palmer's flotsam & jetsam at the Open Ears Festival of Music & Sound Kitchener; Artword Theatre,Toronto.
RECORDINGS
CD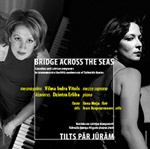 Bridge Across The Seas
(Vilma Indra Vitols, mezzo soprano and Dzintra Erliha, piano)
Canadian and Latvian composers to commemorate the 90th anniversary of Talivaldis Kenins
Whole Note Review
Onyx
(Onyx Wind Quintet)
Three Songs from Mahler's Kindertotenlieder
Nun will die Sonn' so hell aufgeh'n
Oft denk' ich, sie sind nur ausgegangen
Wenn dein Mütterlein
Touch the Hem of His Garment
(The Metropolitan United Church Choir and Friends)
I got me flowers from Vaughan Williams' Five Mystical Songs
DVD
The Making of an Opera: Persée in the Court of Atelier
EDUCATION
1996 Diploma in Operatic Performance, University of Toronto
1994 Artist Diploma in Voice Performance, University of Toronto
1992 Master of Arts (Philosophy), University of Toronto
1990 Bachelor of Arts (Philosophy Specialist), University of Toronto
ADDITIONAL STUDY
Acting Workshop (Tom Diamond)
Banff Centre for the Arts
Opera as Theatre (Kelly Robinson); Shakespeare at the Opera (Glynis Leyshon); Chamber Music Program; 20th Century Song Integration
Britten-Pears School of Advanced Musical Studies, Aldeburgh England
Britten Albert Herring; Purcell The Fairy Queen
Clown Workshop (Sue Morrison, Humber College)
Dartington International Summer Music Festival
Equity Showcase Theatre
Advanced Scene Study (Rosemary Dunsmore); Art of Acting Workshop (Kevin McCormick)
Esmeralda Enrique Academy of Spanish Dance Flamenco
Sears & Switzer Audition Skills Weekend
C.A.E.A. & ACTRA member