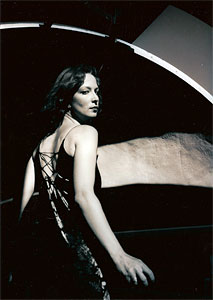 Hailed as a singer with a "gorgeous voice that is both rich and agile", Vilma Indra Vitols has a repertoire encompassing opera, oratorio, cabaret and new music.
She has sung the roles of both Second and Third Lady in Opera Atelier's highly acclaimed production of The Magic Flute and travelled to Korea in 2007 with the same company where she sang in the double bill Actéon/Dido and Aeneas. Other operatic credits include the title role in Carmen for Summer Opera Lyric Theatre, Nancy in Britten's Albert Herring with the Britten-Pears School in Aldeburgh, England, Hansel in Hansel and Gretel for the Canadian Opera Company's outreach tour, Lucy Brown in The Threepenny Opera with Vancouver Opera, Olga in Eugene Onegin with Pacific Opera Victoria, Maria Picariello in the Banff Centre production of the Canadian opera Filumena, and Ruggiero in Handel's Alcina with Essential Opera.
In demand as a concert singer, Vilma has appeared with the St. Lawrence String Quartet, Aldeburgh Connection, Niagara Chamber Music Festival, and Toronto Operetta Theatre. She is a frequent recitalist for the Latvian communities in Canada and the United States. In the fall of 2008 she was alto soloist in Haydn's Missa Sancti Nicolai with Thirteen Strings in Ottawa and in Vivaldi's Gloria with Aradia Ensemble in Toronto. In the spring of 2010 Vilma performed the rarely heard Adieu Robert Schumann by R. Murray Schafer with the NYCO Symphony Orchestra.
A frequent performer of new music, she has had works written for her by several Canadian composers including John Hawkins and Tālivaldis Ķeniņš. She was alto soloist in the world premiere of Recordare by Latvian-Canadian composer Imant Raminsh, and she sang the title role in the premiere of Peter Hannan's and Peter Hinton's The Diana Cantata for Modern Baroque Opera in Vancouver. In the fall of 2006, Vilma performed to sold-out audiences with urbanvessel in SLIP, a site-specific music and dance project, with music by Juliet Palmer, words by Anna Chatterton, choreography by Yvonne Ng. In the spring of 2007 she premiered two new Canadian pieces with the new music group Toca Loca led by Gregory Oh and in the summer of 2009 she performed the title role in Njo Kong Kie and Kico Gonzalez-Risso's La Señorita Mundo at Summerworks Theatre Festival.
Vilma made her European concert debut with recitals in Latvia and Germany in the summer of 2007, returning to Latvia in 2008 at the invitation of the young Latvian composer Ingmārs Zemzaris to sing in a concert featuring his songs. She returned again in 2009 to sing recitals and record a solo CD with Latvian pianist Dzintra Erliha featuring Canadian and Latvian music. Praised as "a glorious release" and "a wonderful tribute" (Tiina Kiik, The Wholenote) Bridge Across The Seas was released in Latvia and Canada in the spring of 2011.
Prior to full-time music studies, Vilma completed an M.A. in Philosophy. In her spare time, she is an avid amateur boxer who won her first amateur boxing bout in 2008. In another collaboration with Toronto's urbanvessel she helped develop a new music piece involving her two passions of singing and boxing. Voice-Box was premiered in November 2010 as part of Harbourfront's World Stage.
Future engagements include Tatiana in Tchaikovsky's Eugene Onegin with Opera By Request.